Why A Whiskey Hamper Is The Best Way To Celebrate Christmas
Author: Nikki Barnett Date Posted:19 November 2020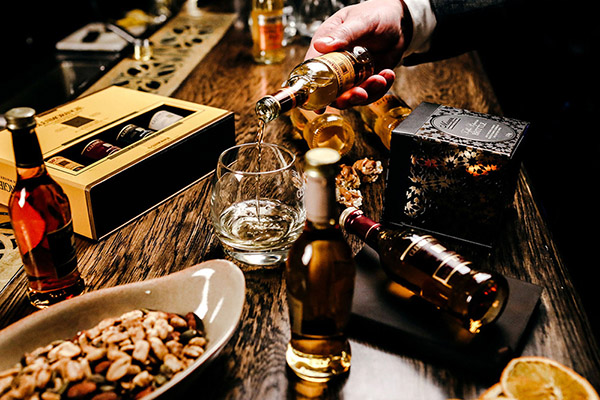 3 Reasons Whisky Enthusiasts Will Love Their Festive Gift
The meaning of whiskey is "water of life", and few liquors have such a fervent and adoring following. We're sure you know at least one avid whiskey fan amongst your family and friends!
Here at The Hamper Emporium, we know that enthusiasts love nothing more than the sublime flavour, smoothness and warming glow of a good whiskey. We're here to take a closer look at exactly why whiskey is so comforting and fiery!
As a festive spirit, this 'wee dram' is second to none, so it makes the ideal gift for your Yuletide list. Our incredible Christmas whisky hampers and gift baskets are designed to impress anyone who is serious about their alcohol and adores a touch of opulence.
Here's Some Fun And Surprising Whisky Trivia
"Whisky" and "Whiskey" are both correct. Whiskey is specific to the Irish drink, and Whisky to Scotland

The very first record of whisky production dates way back to 1494

There are over 5,000 types of single malt whisky produced worldwide

Most whiskey is produced in Bourbon barrels which can be used up to 4 times when making Scotch whisky

Whisky has been tested for its aging process at the International Space Station

The Glenavon Special Liqueur Whisky is the world's oldest according to the Guinness Book of World Records

An apprentice whiskey maker works for 4 years before being allowed their own cask

The largest bottle of Scotch whisky measures 4ft 9ins, containing 105.3 litres which would serve 5,250 drams

July 27 each year is celebrated around the world as Scotch Whisky Day

A Lalique decanter of Macallan's whiskey auctioned in Hong Kong sold for £393,109
3 Reasons Christmas Whiskey Hampers Australia Rule Supreme
1. They make sensational gifts
A bottle of smooth, silky Scotch whisky is guaranteed to put a sparkle in their eye, especially at Christmas. When it's accompanied by the most delicious selection of complementary foods, they will be smiling too! Our gourmet nibbles and treats have been chosen to provide a sweet and savoury taste sensation while they enjoy the fiery, smooth, and perfectly balanced whisky.
Our gorgeous Glenmorangie Quinta Ruban Hamper contains an intoxicating blend of flavours. The award-winning single malt Scotch whisky has a rich and sensuous taste created from extra aging in ruby port pipes. Paired with this are artisan crackers, delicious tapenade, sticky figs, and quince paste. Add in the sweet flavours of buttery toffee, popcorn and nuts, and it's perfect for a festive gift.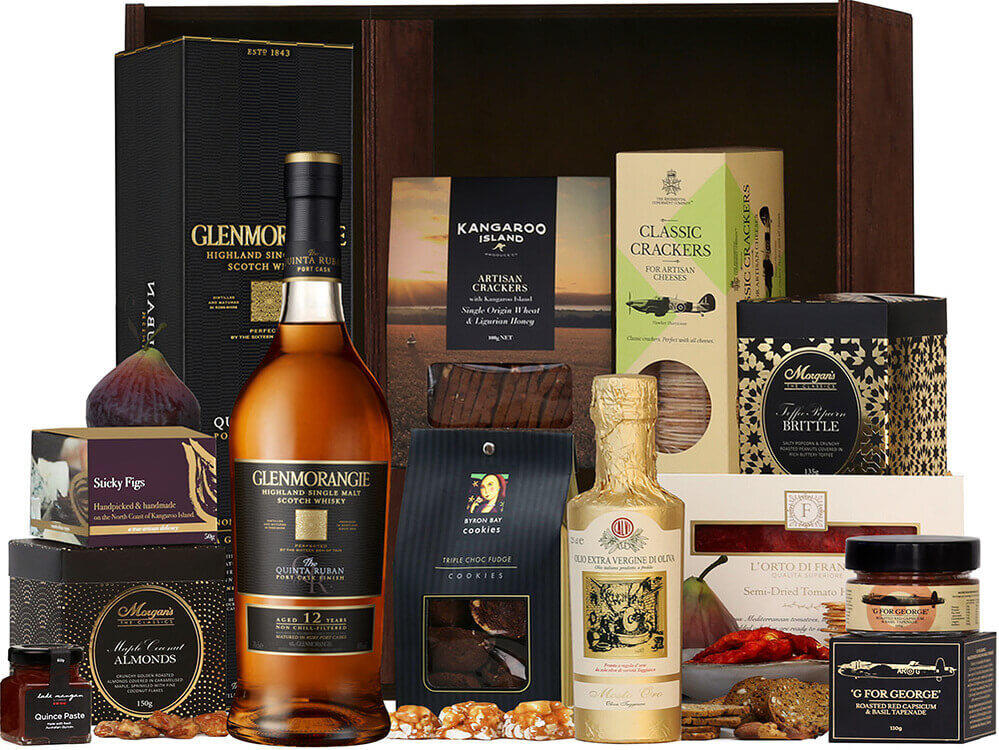 The Glenmorangie 'The Lasanta' Hamper brings the warm, spicy flavour of a 12-year-old single malt whisky. Created during two years of additional aging in Spanish sherry casks, it has a creamy combination of figs, honey and chocolate undertones. The sweet and savoury gourmet additions will add a flavour sensation for every whisky lover, from mouth-watering triple choc fudge to delicious Kangaroo Island olives.
2. You can enjoy a whisky tasting at home
If someone is just starting their whisky adventure or enjoys trying new flavours, then our Glenmorangie Whisky Tasting Hamper is perfect. It's one of our most popular whiskey hamper Australia choices for the festive season as it offers four stunning varieties. Each is chosen to provide a blend and balance of crafted flavours from the experts at Glenmorangie.
As tasty snacks are also essential for any whisky tasting event, it's also packed with luscious treats. From Kangaroo Island sticky figs and olives to rich roast capsicum tapenade, each flavour adds to the occasion. There are even artisan crackers for cleaning the palate. Whisky pairs wonderfully with chocolate and nuts too, so there is tempting popcorn brittle and other sweet delights to try.
For your very own whisky tasting event, you have everything you need for some fun. Whisky shots should be about one finger each and are traditionally served in crystal glasses. Start with the lightest flavoured whisky and save the richest flavour to the last. Sip each of the whiskies first on its own, but you can then add a little water or ice for a different taste experience. It's a superb way to get in the Christmas spirit!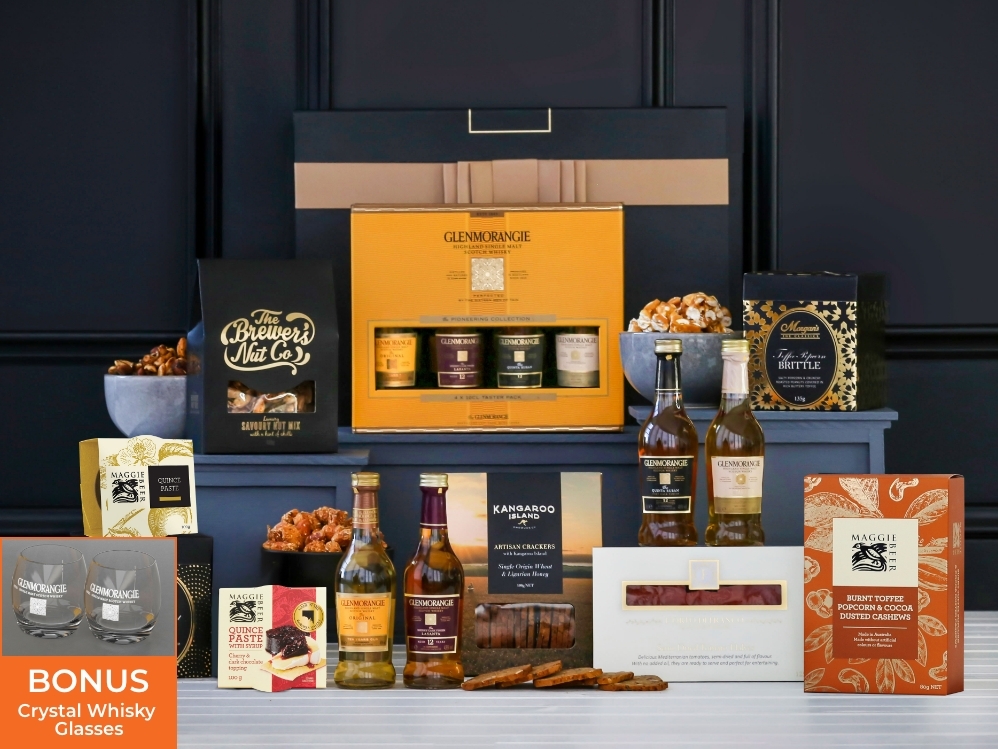 3. Whisky makes amazing cocktails
Any party or get-together at Christmas demands the sophistication of some sensational cocktails. Our Glenmorangie Your Way Hamper spoils them with all the ingredients to create four different whisky cocktails. It's an impressive gift for any whisky enthusiast and also delivers a range of fabulous cocktail collectibles and mouth-watering nibbles to complete the experience.
The centrepiece is four distinctive whisky flavours, each bringing a slightly different spicy taste explosion. Glenmorangie whiskies are renowned for their magnificent flavour and their single malt whiskies are consistently in the top three for sales worldwide. Tempt them with floral and fruity or smooth and spicy. Fevertree spiced orange ginger ale and tangy Australian dried oranges will mix an outstandingly festive cocktail!
It wouldn't be Christmas without some beautiful gifts, so for a memorable occasion, there are two stunning collectible glasses. Designed by Glenmorangie, they are sure to add to the moment. There's also a lovely gold-lined notebook, a handy recipe card, and all the divine sweet and savoury delights they could want. It's a versatile gift which has the 'wow' factor for any festive celebration!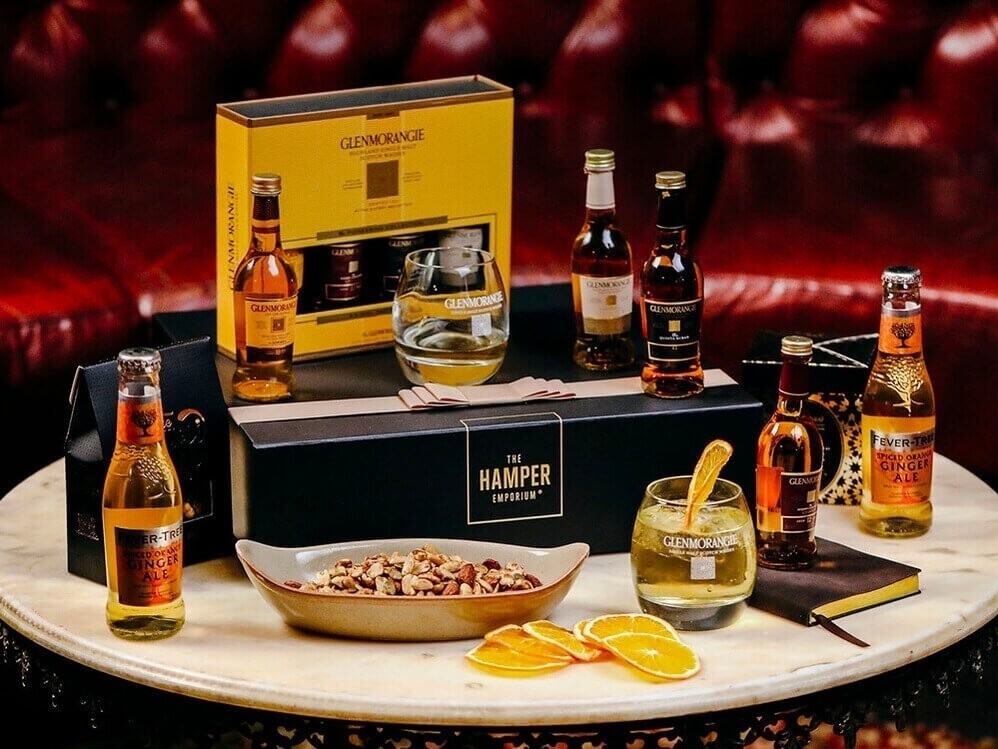 Festive Flavour Sensations From The Hamper Emporium
Gift a Christmas whiskey gift hamper this year for resounding success. Keep it simple and sophisticated and delight friends, family or workmates. Each one is beautifully packed and presented and will make opening Christmas gifts even more of a thrill. There's nothing easier than ordering online with free delivery of your Christmas whiskey hamper Australia wide.
You can check out our full range of hampers here for even more festive ideas!