A Guide To Group Baby Shower Gift Ideas
Author: Nikki Barnett Date Posted:27 July 2020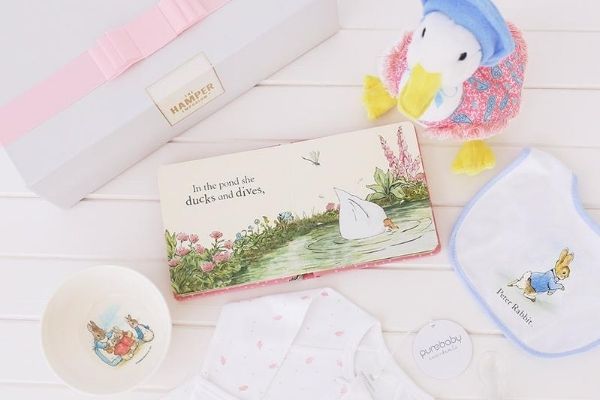 Gorgeous newborn hampers are the ultimate baby shower gift
Every beautiful new baby and their mum deserves a heart-warming celebration. Whether they are a firstborn, second child or lovingly adopted into a family, it's a cause for love, joy and celebration.
Baby showers are always a special way to welcome their cute fingers and toes into the world and support the new parents. Few milestones in life are happier or more lovingly prepared than a baby shower.
If you're searching for the best baby shower gift for a group, then we have the perfect solution here at The Hamper Emporium. Look no further for inspiration than our adorable and charming baby hampers for Mum and bub!
Make it a day to remember for a lifetime
Not many things are as exciting as arranging a baby shower for a close friend or family member. You will want to think about every small detail and make sure the special celebration is personalised to mum's style and taste. Everything down to her favourite colours, decor and finishing touches, need to be planned to make sure she'll absolutely love the day.
Planning a memorable, successful and fun event starts with being organised and inventive. It also means tracking down the most delightful and most useful baby shower gifts. Give yourself plenty of time to choose a theme and make it come to life. If you're yearning to organise something unique and meaningful, then you'll want to check out our blog on creative and pampering ideas for baby showers!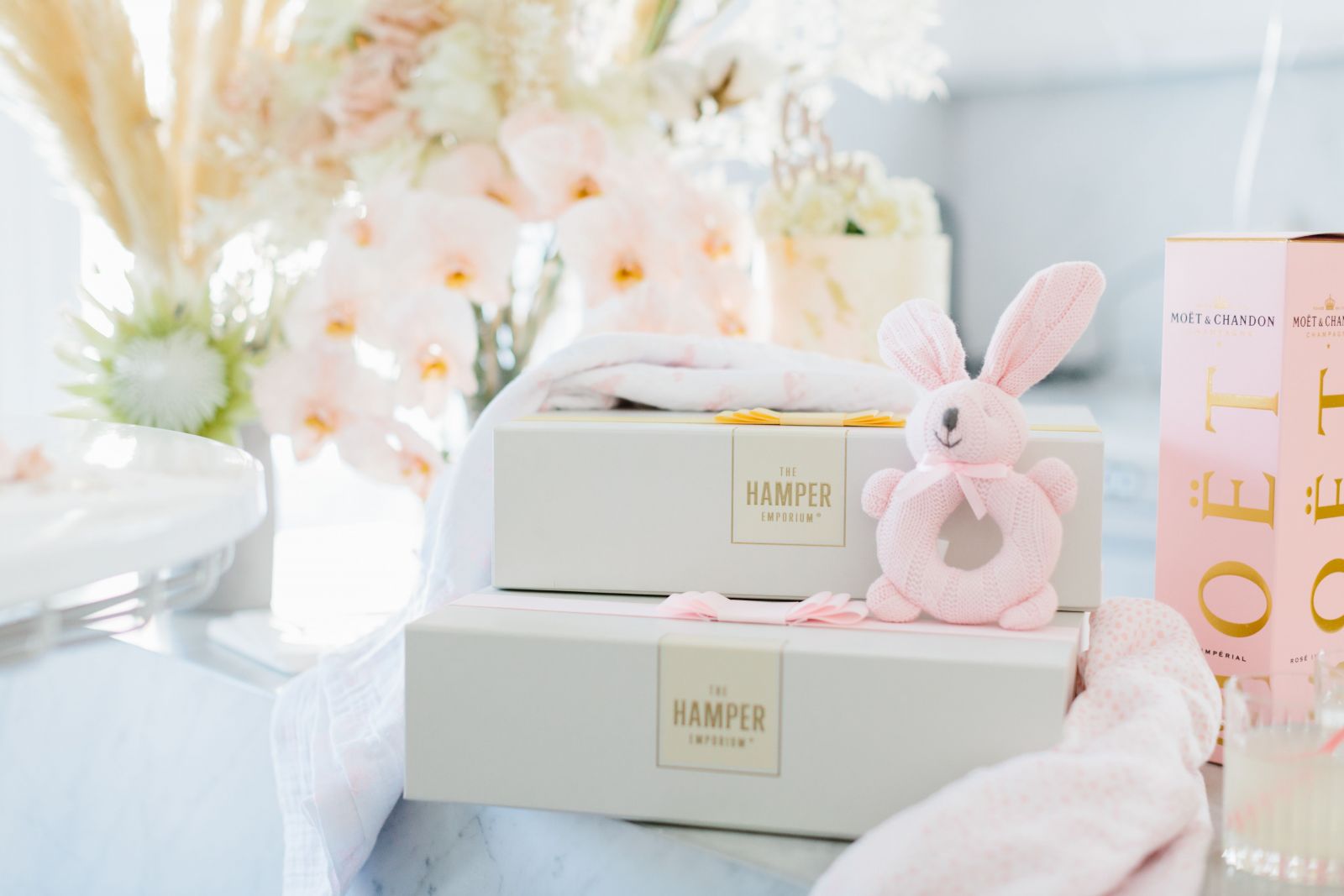 An overview of the perfect pampering day
Most baby showers typically last about three to four hours, and guests are offered a sumptuous array of nibbles and drinks as they arrive. Mingling is definitely encouraged! When everyone has arrived and had time to catch up and sample all the mouth-watering food, then the laughter begins. There are normally some fun games, lasting under an hour, with prizes awarded. Then the best bit starts as mum opens her personalised baby shower gifts, accompanied by a sumptuous celebration cake.
If you are the organiser or host, you can read our fun blog about how to plan a baby shower for some key tips and tricks. You might help on the day with making or ordering the food, but try to prepare everything prior to the shower, so you can relax and enjoy yourself! It's a great idea to engage some friends to help with the setup, organisation, and choosing the best baby shower gifts for Mum.
The group gift that says a thousand words
You may think we have one-track minds at The Hamper Emporium, but we really believe there is nothing more gorgeous than new baby baskets. They are thoughtful and luxurious baby gifts that mum will love and treasure as a keepsake. As a group gift, they are ideal.
The very best baby shower gifts are practical, useful, and have a wonderful personal touch that mum will love. But they should also be high-quality, pampering and cute!
Here's our personal choice of 3 adorable newborn baby hampers that are simply irresistible:
Sheridan Newborn Essentials Baby Hamper
One of the best baby shower gifts 2020, this stunning gift basket is perfect for welcoming any newborn bundle of joy. Packed with quality cotton clothes from the iconic Sheridan, there are an adorable beanie, baby wrap and growsuit, coupled with the softest and cutest booties and mittens. To delight even more, there are a Whistlewood beechwood rattle and a lovely pair of tan baby shoes. The hamper is completed with a keepsake notebook and some delicious gourmet nibbles from Morgan's for Mum!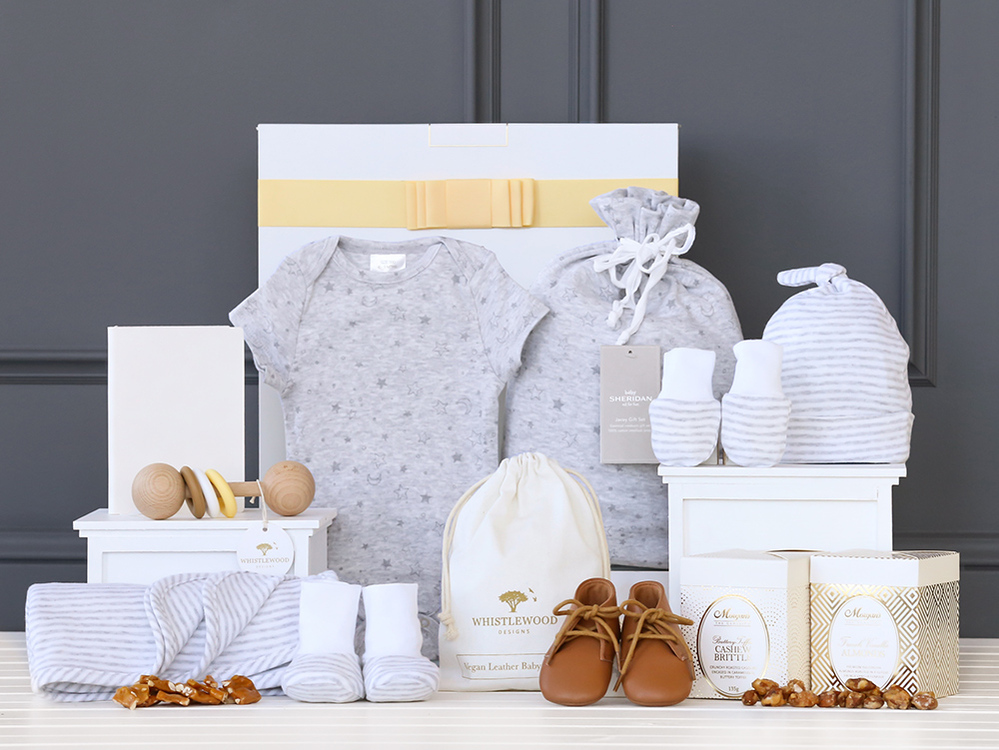 This hamper is guaranteed to add a touch of magic and bring back memories for everyone at any new baby shower. Although people might associate this wonderful childhood character with boys, it's equally charming for girls, especially if it's one of mum's favourites! A handmade, plush Peter Rabbit toy is joined by a beautiful first meal kit and cotton bunny bib. There's also a magical baby book so mum and bub can share the fascinating world of Beatrix Potter and Peter Rabbit together.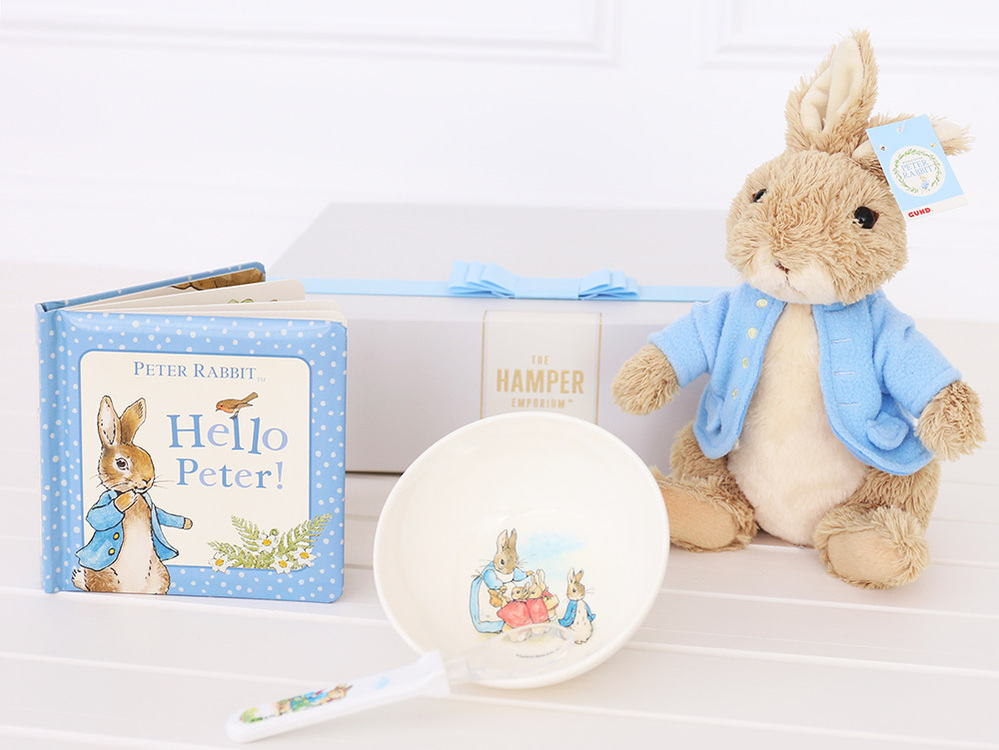 If you want some special treats for mum too, then what better than a combination gift hamper? There is a lovely keepsake notebook and a sparkling cork to pop to toast the new baby or share with dad. This luxurious choice of newborn hamper includes a bottle of the perfectly balanced and smooth Moët & Chandon Brut Imperial Champagne. For baby, she will simply love the soft cuddly toy, bamboo muslin wrap from Bubba Blue, vegan leather baby shoes and cute Whistlewood rattle.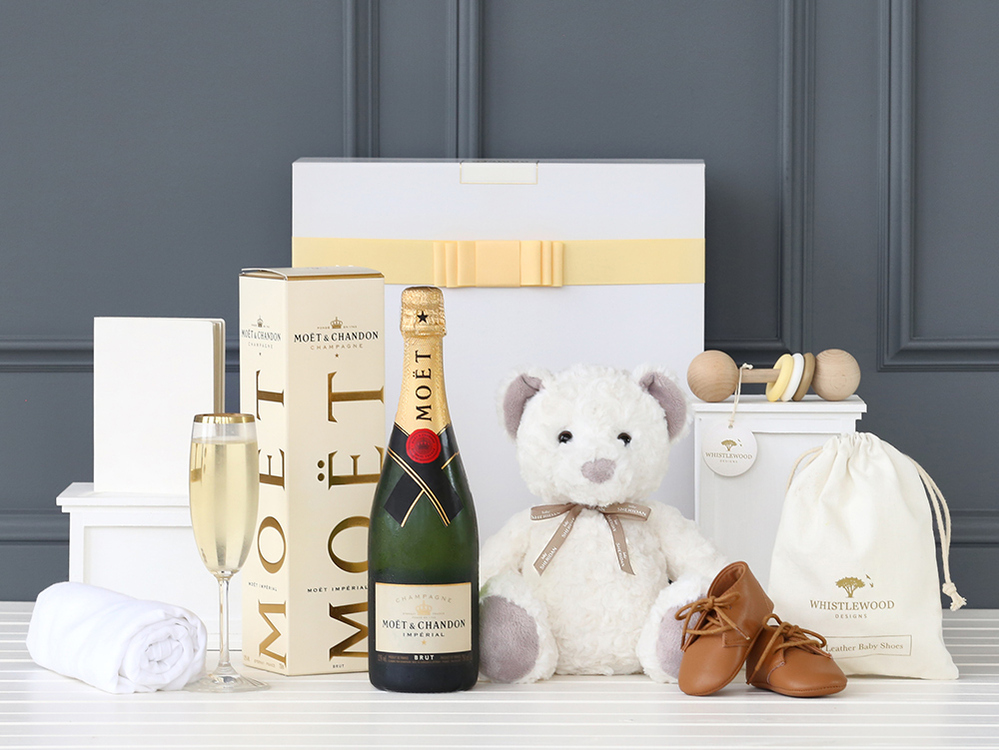 Take inspiration from our divine newborn collection
We have a fabulous range of newborn baby hampers and practical, most needed baby shower gifts to suit every mum and budget. For any pampering celebration, you are sure to find the perfect one that suits mum and will delight the whole family. There are choices for baby boys, baby girls and neutral options if Mum doesn't know.
They are all filled with a carefully selected range of cotton baby clothes, cuddly soft toys, pampering bathtime products and useful items. Beautifully presented and wrapped, they are delivered for free Australia-wide. Plus, they are all packed with love!